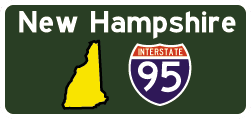 If you came from Steve Anderson's Boston Roads page, you can link back at the bottom. Good night and have a pleasant tomorrow.


Here are some snaps of the IH 95 north.

and my own of the IH 95 south
New HampshireEXIT Number-mileage

Exit Description

Administrative Districts

Points of Interest

Services

NORTH-scroll down

SOUTH

click here if southbound

New HampshireMile 0

New HampshireMile 0.2

New HampshireEXIT 1-mile 1


Seabrook
Kingston

HAMPTON TOLL PLAZA

HAMPTON TOLL PLAZA

NO TOLL-REDUCE SPEED IN PLAZA

New HampshireEXIT 2-mile 6

ManchesterConcord
USE WEST

NORTH-scroll down

SOUTH-scroll up

New HampshireJUNCTION 3-mile 12




EXIT 3


Greenland Road


Pease Int'l Tradeport

Greenland
Portsmouth

EXIT 3A


Greenland Road
Greenland
Portsmouth

EXIT 3B

Pease Int'l Tradeport

New HampshireJUNCTIONS 4 and 5-mile 14

EXIT 4

NH Lakes
White Mountains

EXIT 5


Portsmouth Circle




EXIT 4

NORTH-scroll down

SOUTH-scroll up

New HampshireEXIT 6-Mile 14.6

Woodbury Ave
Portsmouth

New HampshireEXIT 7-mile 15.3

Business District
Portsmouth
Newington

USS Albacore Historic Site
Multiple Museums,
Galleries and Theatres
in Portsmouth Central District




New Hampshiremile 16

NORTH

SOUTH-scroll up

Exit Description

Administrative Districts

Points of Interest

Services

New Hampshire EXIT Number -mileage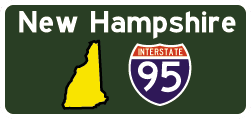 Based on eXitsource for Palm® listings, Streets and Trips 2k2,,
Peter Woodman's IH 89 Site
and personal experience!
NH sign not stolen from James Lin. Fonts used are FWHA Series "C" , "D" and "E" modified from Chris Jordan,
The signs are my own and are bogus as usual. Chris Jordan hates my signs anyway :)


---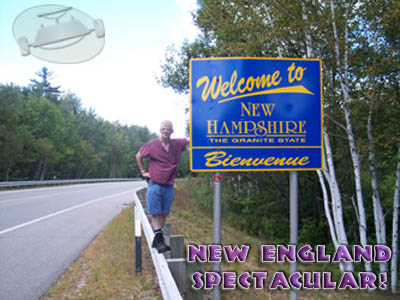 Oi! Here are MY snaps of the IH 95 Southbound.
The perfect complement to the Gribblenation lot above.
The Piscataqua River Bridge,
southbound on the IH 95.

South of the bridge we get a NY Flash!
OG box-beam railing with external joins.

In the JN 4-5 mess.
Bypass US 1 is joining at the left.
The Spaulding Turnpike is joining at the right.
The Gantry signs advertise EXIT 3B

South of JN 3.

This gantry sign USED to warn that you had to stop and pay a toll.
But the southbound toll has been discontinued.
You still have to reduce speed, though.

Approaching junction 2.
NH 101 is the only real east-west freeway link in the state.
Of course, you get another covered toll advisory.

Coming up on the toll plaza.
The barrels close off the additional lanes.

The lanes shift to the right.
Any additional space has been given to northbound plaza traffic which still pays a toll.

Going through the plaza now.
The advisory is for 20mph.
Note the E-ZPass receivers in the canopy.

Lane anarchy south of the plaza.
The overpass is the NH 101 freeway.

NH is ever so happy to collect the wages of sin.
There is a matching Package Store northbound.
They get these nice gold-on-blue signs.

South of the "Packie"(as MASS residents call it),
rolling towards JN 1.

JN 1 sign.

MASS JN 60 sign done NH Stylee.
This is poltically correct as all NH and Maine sines are, with metric equivalents.
The tiny lettering is the sign installation date and sign dimensions.

And here we are now in MASS.
With a slightly better "Welcome" sign than on ordinary highways.